Treatment & Cost
タトゥー除去

Tattoo Removal
Laser Tattoo Reduction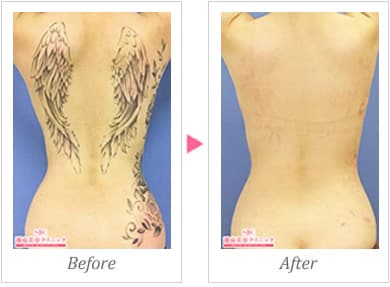 Laser tattoo treatment is a procedure that effectively removes unwanted tattoos. Tattoo and pigment removal is an essential part of Shonan Beauty Clinic. With a growing number of individuals experiencing tattoo regret, the market is expected to hit a year over year growth of 12.7% through 2023.
1~5㎠18,570

Removal by skin grafting
Removes big tattoos! Tattoos are removed quickly and completely!!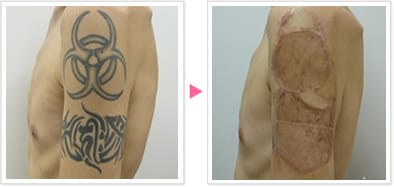 Tattoo removal (skin grafting) is the procedure where the skin is scrapped to a shallow depth, followed by autologous skin transplantation from one's own buttocks etc. This is suitable for a wide range of tattoos and can be performed for significantly large areas. The disadvantage is that texture of the grafted skin is different from the surrounding skin and may be prominent in some cases. Scars will remain even at the places from where the skin was lifted and this means that scars are present at two locations one from where the tattoo was removed and the other from the location where the skin was lifted.
Resection up
to a major diameter of 2cm




65,170yen(including tax)

Resection up
to a major diameter of 4cm



130,340yen(including tax)